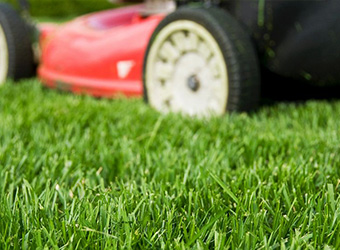 Remember when caring for your new lawn that winter is a dormant period. There may be a loss in colour due to the colder temperature but will thrive once more when the warmer weather returns.
Watering
Once the roots are firmly set, it is suggested to water less frequently and for longer periods. Check the soil regularly to see if it needs water as some weeks watering will not be required
In summer, water your lawn twice per week
In the cooler months, water your lawn once a week. Or as required
Fertilising
It is recommended to fertilise after 6 weeks of laying your turf then in April, May, September and November
Do not fertilise your lawn in hot temperatures.
Weeds
The best way to deal with weeds in your lawn is to remove them by hand. You can use a spray but extreme care must be taken on new developing growth. (Please follow the manufacturer's instructions when handling and weed killer)
Mowing
The best time to mow your new lawn is when the roots are firm in the ground which is generally 3 weeks after installation.
TIPS:
Never remove more than 1/3 of the grass length
Always mow when the lawn is dry
Make sure your mowing blades are sharp